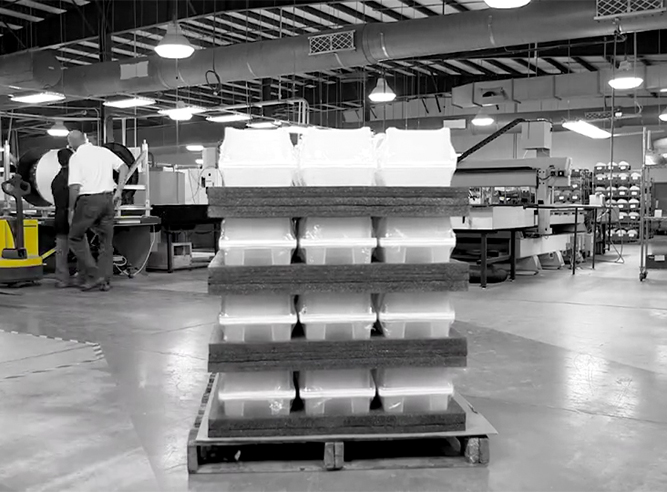 Glass Packaging
At Coresix, producing the highest quality glass components in the world is only part of the equation. Assuring the integrity of the product to the customer's door is an area of expertise unto itself. From particle-free windows and wafers to large format, high volume sheet glass, Coresix has the experience and expertise to protect your investment through a variety of packaging solutions. To maintain cleanliness and surface quality, wherever possible, paperless (or non-contact) packaging is preferred. The container must be designed to minimize movement and contact that may generate particulate from the glass components or the container itself. If a non-contact shipping system is required and not commercially available for a given component, Coresix can develop custom packaging to meet your needs.
General Packaging Guide
Click Below For More Information. If You Need Custom Glass Packaging, Call Us Today
| Type | Contact | Substrate Min. | Substrate Max. | Cleanliness | Shape | Class 100 |
| --- | --- | --- | --- | --- | --- | --- |
| Box/Tissue | Yes | 20mm | 150mm | Fair | Any | No |
| Box/Paper | Yes | 50mm | 300mm | Poor | Rectangle | No |
| Crate/Paper | Yes | 200mm | 1200mm | Poor | Rectangle | No |
| Nitto Tape | Yes | 20mm | 400mm | Fair | Rectangle | Yes |
| Shrink Wrap | Yes | 50mm | 400mm | Fair | Any | No |
| Wafer Container | No | 25mm | 300mm | Excellent | Diameter | Yes |
| Custom Trays | No | 10mm | 400mm | Excellent | Any | Yes |
| Corner Protectors | No | 300mm | 650mm | Good | Rectangle | Yes |
| Coroplast Wrap | Yes | 30mm | 300mm | Good | Rectangle | Yes |
NOTE: Actual size limits, cleanliness, and costs will vary with circumstances and can be reviewed by application for best options.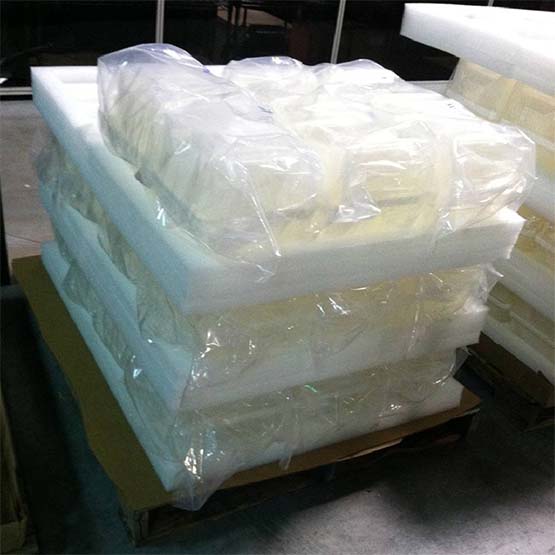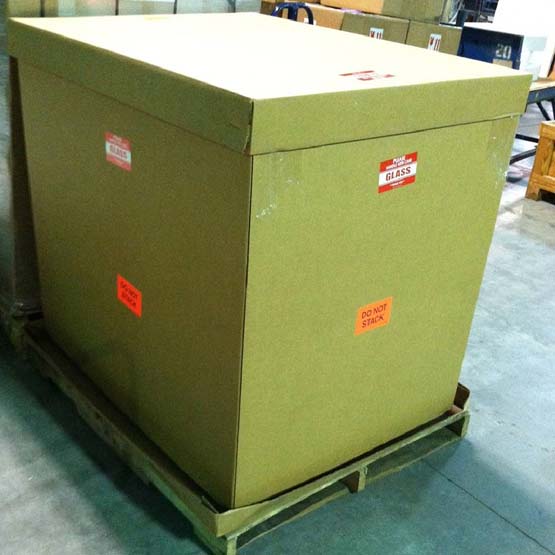 Palletized Wafer Packaging
For large volume shipments, Coresix offers a palletized packaging system for 200mm wafers. This system utilizes closed-cell foam protective layers custom-made to fit industry-standard wafer carriers (Entegris/Epak). Wafer carriers are stacked 12 per layer, 4 layers high with a cardboard sleeve and lid encapsulating the entire stack. This stack fits on a standard 4-way wooden pallet and is banded for protection in transit.
Generally used for smaller parts, tissue wrapping is an economical option for maintaining fairly high surface qualities with minimal introduction of particulates.
For bulk shipments of mid-size sheet glass, where surface quality and cleanliness are of minimal concern, a cardboard box with paper interleaf is a cost-effective solution.
Similar to Box/Paper interleaf, a crate adds additional support for larger profile sheet glass and/or bulk shipments.
A protective tape applied rthrough static adhesion to the glass surface protects the part during general handling and shipping. Effective means of protecting the surface through subsequent processing while maintaining moderate cleanliness level.
A protective cellophane wrapping prevents introduction of heavy particulate during shipment. Shrink wrapping can be performed with either tissue or paper interleaf.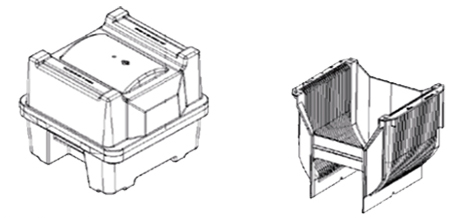 Standard Wafer Container
For standard size wafers, we use Semiconductor wafer containers which are pre-cleaned. Once loaded within the Class 100 Clean Room, the container is double bagged and vacuum sealed for shipment. From producers like Entegris and ePAK, these containers are a proven means of shipping high quality wafers and reticles while maintaining cleanliness and cosmetic integrity.
Primarily for smaller, custom size parts in significant volumes, vacuum formed trays can be designed from a number of materials for maximum protection and cleanliness during shipping and storage.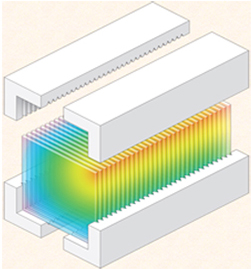 Custom Corner Protectors
Designed by Coresix, these high impact polystyrene corner protectors are clean room compatible and flexible in size for a non-contact alternative to shipping high quality sheet glass.
A low cost, clean room compatible alternative for parts four inches to twenty inches. A coroplast board with adhered plastic teeth is formed into a "wrap" to envelop the parts in groups of five or ten. The bundle is then bagged prior to shipment.