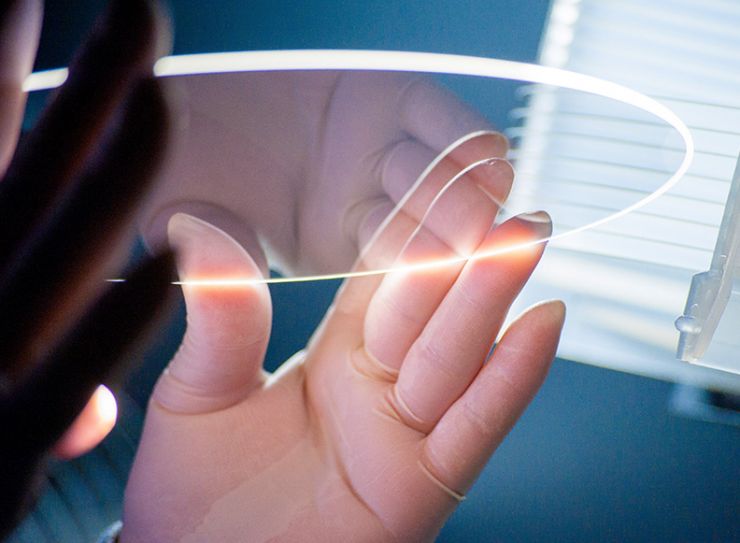 Coresix Precision Glass, Inc.
Coresix Precision Glass, Inc. was founded on the acquisition of an established glass fabrication company in January 2002. Extensive experience in edging, lapping, polishing, and cleaning enabled Coresix to quickly become a premier glass supplier of precision glass components to an array of markets. The early and continued success of our glass company has driven steady growth, allowing us to design and build a new facility suited to the needs of the markets we serve. Today, we strive for continuous improvement in the quality and cleanliness of our products and excellence in all areas of service to our customers. Our number one goal is to help ensure the success of our customers, thereby assuring our own continued success as a world-leading glass company.
Mission Statement
Mission Statement
Coresix Precision Glass, Inc. is a full-function glass fabrication company dedicated to providing on-time delivery of the highest quality glass products at the most economical cost in the market. By doing so, we generate a fair return for our investors and allow for reinvestment into our company for the continued development of processes and products for present and future markets. We maintain and nurture a friendly, fair, and creative work environment, which respects diversity, new ideas, and hard work.
There are six core segments that will individually benefit from our operation and collectively determine Coresix Precision Glass' success. This is the core of our commitment from which the name Coresix is derived.

CUSTOMER • SUPPLIER • EMPLOYEE • INVESTOR • FAMILY • COMMUNITY
CUSTOMER PLEDGE
Customer Pledge
Our first priority is the complete satisfaction of our customer's needs. Our main objective is to build value in and contribute to the success of our customers, thereby ensuring the success of our own company. We create customer value by understanding and anticipating customer needs, unconditionally guaranteeing our work, and empowering our employees to do what is right for our customers.
It is the customer and the customer alone who will ultimately determine the success or failure of our company. Serving the customer is the responsibility of every employee at Coresix Precision Glass, Inc.
Corporate Focus

Quality
Through an internal program of continuous improvement and critical feedback from you, our customer, Coresix pledges uncompromising quality in every product shipped.

Delivery
It is the goal and responsibility of every individual at Coresix to achieve no less than 100% on-time delivery.

Service
From initial contact to post-shipment, accurate information and access to key personnel are available to you.

Pricing
We strive to offer the most competitively priced, quality parts in the market and target long-term cost reduction whenever possible.
MANAGEMENT TEAM